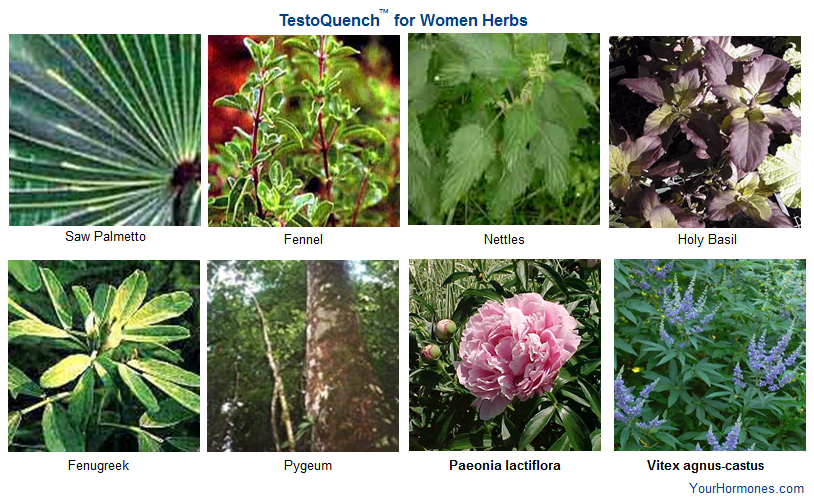 TestoQuench™ for Women Herbs
Paeonia lactiflora (Peony) decreases testosterone production by inhibiting the conversion of delta 4- androstenedione to testosterone in the ovary, while stimulating aromatase activity in the ovary to promote estradiol synthesis. Paeoniflorin and other constituents bind to androgen receptors (AR) and act as AR antagonist. Paeoniflorin also has neuroprotective properties, and may normalize stress induced dysregulation of hypothalamic-pituitary-adrenal (HPA) axis, which has been implicated in the pathogenesis of depression.

Trigonella foenum-graecum (Fenugreek) interferes with androgen function due to the presence of beta-sitosterol, palmitic-acid. Palmitic-acid and beta-sitosterol both have 5-alpha-reductase inhibiting activity. Fenugreek has anabolic activity that maintains lean muscle without being androgenic. It is primarily recognized as having estrogenic activity. Of interest, in resistance trained men it caused a 26.6% increase in estradiol, with only a slight 6.57% increase in testosterone. Fenugreek is highly regarded for its ability to normalize blood glucose, an attribute which is supported by antioxidant, neuroprotective and the ability normalize blood lipids. This is important because women with excess androgens are at increased risk of developing type 2 diabetes.

Serenoa repens (Saw Palmetto) interferes with androgen function through its ability to inhibit both type 1 and type 2 isoenzymes of 5 alpha-reductase as well as its ability to interfere with binding of dihydrotestosterone to cytosolic androgen receptor. Though popular for its ability to decrease 5 alpha- reductase in prostate tissue, animal studies have demonstrated that Serenoa repens acts on ovary cells. In addition, it has been shown to reduce sebum production in both men and women. The affect that Serenoa repens has on 5alpha-reductase is important because elevated 5alpha-reductase activity in polycystic ovaries play a role in the pathogenesis of PCOS. Decreasing the excessive 5alpha-reductase activity may also interfere with the progression of hirsutism.

Foeniculum vulgare (Fennel) interferes with androgen function through the constituent ability to inhibit both type 1 and type 2 isoenzymes of 5 alpha-reductase as well as its estrogenic properties. The antiandrogen properties are due to some of the long chain fatty acids in fennel cause inhibition of 5alphaR1 and 5alphaR2 activity. These antiandrogen properties that have traditionally been used to treat hirsutism.

Pygeum africanum (Pygeum) interferes with androgen function through the actions of atraric acid and N-butylbenzene-sulfonamide, which are both complete and specific androgen receptor (AR) antagonists. The androgen antagonistic activity is receptor specific and does not inhibit the closely related glucocorticoid or progesterone receptors. It does not inhibit estrogen receptors.

Ocimum sanctum (Holy Basil) decreases androgen function due to antiandrogenic properties, which appear to diminish two weeks after the herb is stopped. There is also considerable research showing that Ocimum sanctum decreases elevated serum glucose and also decreases hyperlipidemias. Even normal-weight women with PCOS exhibit oxidative stress and can have excess androgen excess.
Ocimum sanctum has antioxidant properties that have demonstrated neuroprotective properties. Ocimum sanctum is highly regarded as an adaptogen which promotes recovery from stressors, normalizes corticosterone response to stress, and modulates glycemic and biochemical response to stress. This stress adaptation is important for women with PCOS, who are more like to have a physiologically disturbed stress response.

Urtica dioica (Nettles) may have its antiandrogen affect due to β-sitosterol and scopoletin, which have 5α-reductase inhibitory potential. The antiandrogen properties may also be due to some of the long chain fatty acids in Nettles which can cause inhibition of 5alphaR1 and 5alphaR2 activity. There has been one study suggesting that Urtica dioica has estrogenic properties, which may account for the anti- androgen affect. Urtica dioica also has a normalizing affect on blood sugar, which is beneficial because women with androgen excess disorders are at increased risk of developing type 2 diabetes mellitus.

Vitex-agnus castus (Chasteberry) can exert its anti-androgen affect by decreasing both LH and testosterone levels. Conversely, Vitex agnus castus has been shown to increase progesterone levels and consequently support regulation of luteal function. Significant increases in plasma progesterone and total estrogens levels were shown, as were significant reduction in luteinizing and plasma prolactin hormones. A number of studies demonstrate its efficacy in relieving PMS as well as premenstrual mastodynia and other menstrual disorders (amenorrhoea, dysmenorrhoea). The benefits may in large part due to the ability of Vitex agnus castus to normalize excessive prolactin levels. This is important because there is a high comorbidity of hyperprolactinemia with PCOS.