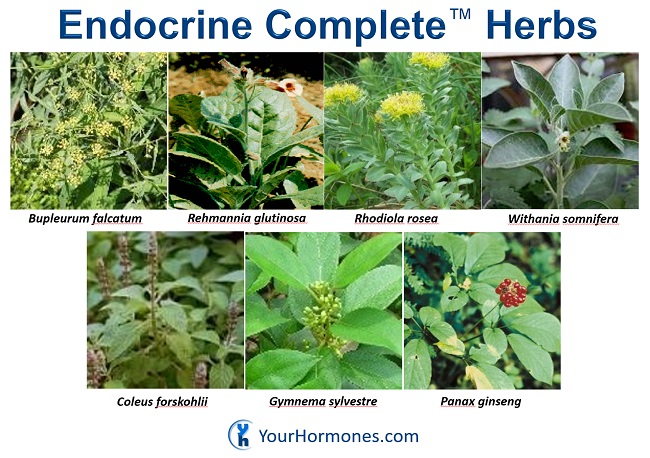 Endocrine Complete™ herbs are formulated to specifically provide foundational support of your entire endocrine system. This Hormone Specific™ Formulation may be used with any of the other Hormone Specific™ Formulations.

Rehmannia glutinosa supports the function of the adrenal gland and the physiological response to stress. Rehmannia glutinosa also supports ovarian production of estradiol and progesterone and protects testicular reproductive ability based on various animal studies. Rehmannia glutinosa can increase insulin levels, and decrease insulin resistance by increasing glucose utilization and lowering glucose and cortisol levels. Rehmannia glutinosa also protects kidneys by suppressing the expression of angiotensin II and suppressing aldosterone. Rehmannia glutinosa can also reduce proteinuria. Protecting the kidneys is very important because people with blood glucose disorders are a high risk for kidney disease.

Rhodiola rosea decreased the stress induced negative changes of ACTH and cortisol levels. Rhodiola rosea contains salidroside, which has a protective effect on the function of LH in the hypothalamic-pituitary-gonadal axis and can maintain testosterone production. Rhodiola rosea decreased the stress induced negative changes of thyroxine and triiodothyronine concentrations. Rhodiola can increase serum insulin levels and restore optimal blood glucose levels. Rhodiola rosea has been shown to inhibit angiotensin I-converting enzyme, and decrease left ventricular remodeling by its ability to decrease myocardial angiotensin II (Ang II), aldosterone (ALD) levels.

Withania somnifera increases serum levels of LH, and subsequently serum testosterone in human studies. Withania somnifera also mimicks the function of TSH by increasing thyroid hormone production. Withania somnifera also can protect pancreatic beta-cells and promote normal blood glucose levels.

Coleus forskohlii provides forskolin, the active ingredient in Coleus forskohliistimulates adrenocorticotropin (ACTH) release. Forskolin, also increases T3 & T4 secretion from thyrocytes in a fashion similar to TSH, including organification of iodine though independent from TSH.

Gymnema sylvestre is beneficial for both preserving and restoring beta-cell function. The antiobesity effect of Gymnema sylvestre has been attributed to its ability to reduce elevated leptin levels, thereby remediating leptin resistance, in high fat diet (HFD)-induced obesity.

Panax ginseng supports adaptation abilities by maintaining baseline levels of ACTH, and also preserves adrenal function by modulating excessive, stress induced ACTH production, and increase resistance to stress. Panax ginseng increased both FSH and LH in human studies. Panax ginseng can protect beta-cells and reduce blood glucose levels. Panax ginseng can reduce angiotensin II induced endothelial cell damage as well as reverse hypertrophy, myocardial remodeling, and heart failure caused by angiotensin II induced proliferation and inflammation of cardiomyocytes. The GLAS is supported by Panax ginseng, which can restore the anorexic effect of leptin and can be used as an anti-obesity therapeutic agent that modulates obesity-induced inflammation and improves central leptin sensitivity in HF diet-induced obesity.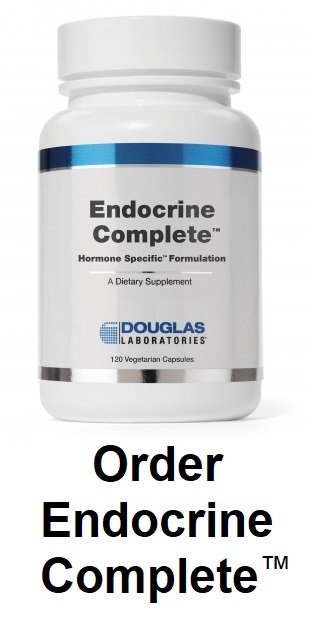 Back to About Endocrine Complete™